Mixing Module
They are used for adjusting air flow rate by increasing/decreasing total pressure. They are manufactured with galvanized frames.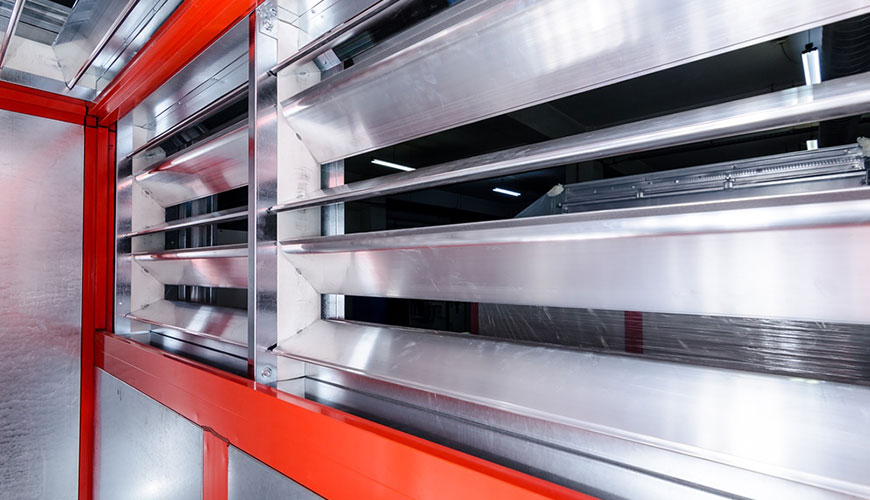 Supply Module with One Damper
They are used for adjusting air flow rate by increasing/decreasing total pressure. They are manufactured with galvanized frames. Damper blades are produced from special alloy aluminum profiles having an aerodynamic form to reduce drag and leakage. Neoprene gaskets and by-pass elements are used in order to minimize air leakage. Dampers can be linkage type instead of rotating gear aluminum frame type upon request. Damper blades can be driven easily by servomotors or rotated manually. The blades can move parallel or against each other for both configurations.
Mixing Modules with Two Dampers
Designed to save energy by mixing the required amount of fresh air and return air. The economic comfort conditions are reached using a smaller heat exchanger by decreasing the air temperature difference between the heat exchanger inlet and outlet. Includes exhaust, fresh and return air dampers functioning together to regulate the mixture ratio.
Dampers can be placed on any side, on the outside or the inside to save place. Control system of this mechanism is vital due to arrangement of fresh air/internal air percentage.
Mixing Modules With Three Dampers
They are also designed to save energy such as modules with two dampers. The only difference is that two fans are needed when mixing module with three dampers are used. One is for exhaust and one is for fresh air. The third damper, which is at the connection point between two modules, is the mixing area. Third damper's air velocity can exceed supply damper's air velocity at the surface. It should also be noted that it is needed to select supply module's damper as %100 fresh air during the designing process.
ACCESSORY EQUIPMENTS for DAMPER MODULE:
Flexible Connection: Flexible connection elements for AHU inlet - AHU outlet - fan outlet
Roof Curb: Waterproof solutions for dampers on external units
Electrical Damper Heater: Anti-Frost solution for extreme low-temperature conditions. In temperature below 0°C, damper blades face frosting issue which causes failure in case of the damper is closed/blades in contact. In order to avoid this problem, damper blades should be heated. Heating the air entering the damper face is not self-sufficient due to lack of face area and requiring lots of energy. Heating up the blades helps to avoid the frosting by fusion, so the requiring energy is lesser compared to any other solution. Special damper blades made of aluminum are used with special shallow shaft and hinges allowing to be heated from inside. Adjustable ∆T thermostat and connector box are provided and mounted on the unit. The power/energy consumption is calculated (Blade length * Row count * 30 watts) and showed on the control box. The system is capable of working down to -48°C.
Damper Motor
Louvre: AHU inlet/outlet louvres
Sand Trap Louvre: Units located in places which takes air from an environment with a lot of dirt/dust leads the filtering system not to function properly. In order to protect the filters from dust, sand traps are used at fresh air inlets providing dust free air through the unit.